ARRL Field Day – June 26-27, 2021
ARRL Field Day is the most popular on-the-air event held annually in the US and Canada. On the fourth weekend of June, more than 35,000 radio amateurs gather with their clubs, groups or simply with friends to operate from remote locations. Here's a link to all there is to know about Amateur Radio's largest annual event:
PBS American Experience
Tetsuya Fujita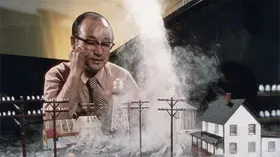 "Mr. Tornado"
Ted Fujita was a Japanese-American engineer turned meteorologist. His lifelong work on severe weather patterns earned Fujita the nickname "Mr. Tornado". This is the remarkable story of Tetsuya "Ted" Fujita, whose groundbreaking work in research and applied science saved thousands of lives and helped Americans prepare for and respond to dangerous weather phenomena.
First Aired: 05/19/20 – Running Time: 52 min, 50 sec.
If you have an interest in tornadoes or severe weather, you must not miss seeing this incredible documentary film.
Click the link below to watch the video direct from the WGBH Boston website:
https://www.pbs.org/wgbh/americanexperience/films/mr-tornado/
Link to the accompanying article:
https://www.pbs.org/wgbh/americanexperience/features/mr-tornado-remarkable-mind/
Radio Station KPH
The Last Active Morse Code (Commercial) Radio Station in the United States
A YouTube video by Shannon Morse, KM6FPP
KPH is located within the Point Reyes National Seashore in Marin County, California, north of the San Francisco Bay. KPH is a public coast radio station on the West Coast of the United States. For most of the 20th century, it provided ship to shore communications including telegrams (using Morse code) and marine telex service (using radioteletype). The station discontinued commercial operation in 1998, but is operated occasionally as a historic service – its signal can be tuned in throughout a large portion of the western hemisphere.
Signor Marconi's Magic Box
Discussed at a recent CAUHF Group Meeting
A Book by Gavin Weightman
Overview: The intriguing story of how wireless was invented by Guglielmo Marconi – and how it amused Queen Victoria, saved the lives of the Titanic survivors, tracked down criminals and began the radio revolution. Wireless was the most fabulous invention of the 19th century: the public thought it was magic, the popular newspapers regarded it as miraculous, and the leading scientists of the day (in Europe and America) could not understand how it worked. In 1897, when the first wireless station was established by Marconi in a few rooms of the Royal Needles Hotel on the Isle of Wight, nobody knew how far these invisible waves could travel through the 'ether', carrying Morse Coded messages decipherable at a receiving station. (The definitive answer was not discovered till the 1920s, by which time radio had become a sophisticated industry filling the airwaves with a cacophony of sounds – most of it American.)Marconi himself was the son of an Italian father and an Irish mother (from the Jameson whiskey family); he grew up in Italy and was fluent in Italian and English, but it was in England that his invention first caught on. Marconi was in his early twenties at the time (he died in 1937). With the 'new telegraphy' came the real prospect of replacing the network of telegraphic cables that criss-crossed land and sea at colossal expense. Initially it was the great ships that benefited from the new invention – including the Titanic, whose survivors owed their lives to the wireless.
ISBN-13: 9780007130061
Publisher: Harper Collins UK
Publication date: 03/15/2004 (revised edition)
Pages: 336
Dimensions: 5.00(w) x 7.90(h) x 1.10(d)

ARRL Thanks Official Observers as Volunteer Monitor Program is Set to Debut
September 30, 2019 saw the final closing of the Official Observer (OO) program. The ARRL has expressed deep appreciation to the hundreds of volunteers who gave their time as Official Observers to help preserve the integrity of the Amateur Radio bands.
The Official Observer program has served the Amateur Radio community and assisted the FCC Enforcement Bureau for more than 85 years. The OO program is giving way to the new Volunteer Monitor (VM) program, established as part of a formal partnership between ARRL and the FCC. ARRL and the FCC signed a Memorandum of Understanding (MOU) earlier this year that establishes the Volunteer Monitor program as a successor to the Official Observers. The first Volunteer Monitors should be in place and ready to begin their duties this fall.
"Thank you for your dedication and service," ARRL Regulatory Information Manager Dan Henderson, N1ND, said. "It was the good work of the OOs over many years that laid the foundation for the FCC to recommend this new agreement for enforcement." The FCC proposed the program following the closures of several FCC regional offices and a reduction in field staff.
Last February, Riley Hollingsworth, K4ZDH, who once handled Amateur Radio enforcement for the FCC, was named to oversee the development and implementation phases of the Volunteer Monitor program.
Under the new VM program, volunteers trained and vetted by ARRL will monitor the airwaves and gather evidence that could be used to correct misconduct as well as to recognize exemplary on-air operation. ARRL will refer instances of flagrant violation to the FCC for action, in accordance with FCC guidelines, and the FCC will give priority to enforcement cases developed by the VM program.
Official Observers were invited to apply to become Volunteer Monitors, and many did. The requirements for being a Volunteer Monitor include:
Ability to utilize state-of-the-art receiving equipment and to access no-cost remote receive sites; strong writing and communication skills
An understanding of the importance of thorough documentation
Basic word processing and data entry skills
The ability to send such information, including recordings, to ARRL electronically. Applicants must also be ARRL members, have no history of FCC enforcement action, hold a Technician-class or higher license, and been licensed for at least 3 years.
Applicants underwent a training and certification program administered by ARRL and were vetted by ARRL through at least one oral interview and a preliminary evaluation by ARRL staff. Volunteer Monitors will serve 3-year terms at the pleasure of ARRL.
The objectives of the Volunteer Monitoring Program include improving and promoting knowledge and compliance of FCC Amateur Radio Service rules, extending and preserving the tradition of self-regulation and self-administration of the Amateur Radio Service by volunteers, and enabling the FCC Enforcement Bureau "to more efficiently and effectively utilize its resources in enforcing the Communications Act and Commission rules," according to the MOU.
Let's All Get Together!
For quite some time, we have considered establishing standard simplex frequencies for use within the CAUHF Group (and for anyone else who wishes to play along with us). All of these frequencies fall within the ARRL Band Plan for VHF and UHF. Here's what we've come up with thus far. We will not use PL tones on any simplex frequency (unless it becomes necessary in the future). During special events, disaster drills, etc., we can refer to these as "tactical channels". Please program all of these simplex frequencies into your mobile radios and HT's. You never know when you might need them.
| | | | |
| --- | --- | --- | --- |
| VTAC Channel | VHF | UTAC Channel | UHF |
| VTAC-1 National Simplex | 146.520 MHz | UTAC-1 National Simplex | 446.000 MHz |
| VTAC-2 | 146.535 MHz | UTAC-2 | 446.025 MHz |
| VTAC-3 | 146.550 MHz | UTAC-3 | 446.050 MHz |
| VTAC-4 | 146.565 MHz | UTAC-4 | 446.075 MHz |
| VTAC-5 | 146.580 MHz | UTAC-5 | 446.100 MHz |
Some folks just pick any old frequency for simplex but that really is not wise. If you are not careful, you can accidentally pick a repeater frequency. Also, you must remember that VHF simplex frequencies need to be at least 15kHz apart and UHF simplex frequencies need to be at least 25kHz apart (as shown above) to avoid interfering with each other. We began with the VHF National Calling Frequency as the baseline at 146.520, then for each succeeding "channel", we went up 15kHz. We also began with the UHF National Calling Frequency as the baseline at 446.000, then for each succeeding "channel", we went up 25kHz.
This is the place to come for the latest news and information about the CAUHF Group. Also, don't forget to check-in to our regular Tuesday Night Net, held every Tuesday evening at 8:00 p.m. on all of the AR Links System Repeaters such as 443.200 in Little Rock, 444.700 in North Little Rock and a dozen or so more around the state. Click on the AR Links System tab above.