Alaska Morning Net
America's Longest Running VOIP Amateur Radio Net
The Alaska Morning Net is an amateur radio net that meets every day from 12:00 noon to 2:00 p.m Central Time, seven days a week. AMN takes check-ins from all around the world. Connections are: AllStar nodes 27133 or 29332, OR Echolink WL7LP-R node 9191. (IRLP is down temporarily). AMN is also available on the ALASKA Conference Server, node 633686. Be aware that many repeaters, are not equipped with Echolink or AllStar nodes. You can of course, use your laptop, desktop, iPhone or Android phone to connect to AMN.
Most daily nets run for two hours, sometimes a bit longer. The AMN cordially invites you to QSO with them and once you do, you will become part of the AMN family. Net Control Operators may be located all over the world. Remember, this is a VOIP net, so all classes of Amateur Radio licenses are permitted: Technician, General or Extra.
The Alaska Morning Net began as a local Anchorage 2-meter net. Hams from all around the Anchorage area, as well as the surrounding areas would check into the net. Later, repeaters were placed farther south of Anchorage allowing those from southern and southeastern Alaska to check into the Alaska Morning Net. Repeaters were also placed north of Anchorage and folks from Eagle River all the way to Wasilla were able to join the Alaska Morning Net.
As the years went by and the Internet was born, voice over internet protocol (VOIP) was created. Soon, IRLP, AllStar and Echolink were born. The ability to connect a ham radio to an Internet linked computer gave the ham radio world the ability to reach far away places and countries. Not long after that, Alaska Morning Net began using this new VOIP technology to link nodes to one central hub or reflector.  You can find the Alaska Morning Net on Allstar Hub 29332 and 27133 and for Echolink, you can find AMN by searching for WL7LP-R. If you are using a node of your own, use DTMF number 9191.
For more information about the Alaska Morning Net:
The Alaska Morning Net Web Page
The Alaska Morning Net Facebook Page
PBS American Experience
Tetsuya Fujita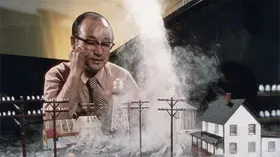 "Mr. Tornado"
Ted Fujita was a Japanese-American engineer turned meteorologist. His lifelong work on severe weather patterns earned Fujita the nickname "Mr. Tornado". This is the remarkable story of Tetsuya "Ted" Fujita, whose groundbreaking work in research and applied science saved thousands of lives and helped Americans prepare for and respond to dangerous weather phenomena.
First Aired: 05/19/20 – Running Time: 52 min, 50 sec.
If you have an interest in tornadoes or severe weather, you must not miss seeing this incredible documentary film.
Click the link below to watch the video direct from the WGBH Boston website:
https://www.pbs.org/wgbh/americanexperience/films/mr-tornado/
Link to the accompanying article:
https://www.pbs.org/wgbh/americanexperience/features/mr-tornado-remarkable-mind/
Radio Station KPH
The Last Active Morse Code (Commercial) Radio Station in the United States
A YouTube video by Shannon Morse, KM6FPP
KPH is located within the Point Reyes National Seashore in Marin County, California, north of the San Francisco Bay. KPH is a public coast radio station on the West Coast of the United States. For most of the 20th century, it provided ship to shore communications including telegrams (using Morse code) and marine telex service (using radioteletype). The station discontinued commercial operation in 1998, but is operated occasionally as a historic service – its signal can be tuned in throughout a large portion of the western hemisphere.
Signor Marconi's Magic Box
Discussed at a recent CAUHF Group Meeting
A Book by Gavin Weightman
Overview: The intriguing story of how wireless was invented by Guglielmo Marconi – and how it amused Queen Victoria, saved the lives of the Titanic survivors, tracked down criminals and began the radio revolution. Wireless was the most fabulous invention of the 19th century: the public thought it was magic, the popular newspapers regarded it as miraculous, and the leading scientists of the day (in Europe and America) could not understand how it worked. In 1897, when the first wireless station was established by Marconi in a few rooms of the Royal Needles Hotel on the Isle of Wight, nobody knew how far these invisible waves could travel through the 'ether', carrying Morse Coded messages decipherable at a receiving station. (The definitive answer was not discovered till the 1920s, by which time radio had become a sophisticated industry filling the airwaves with a cacophony of sounds – most of it American.)Marconi himself was the son of an Italian father and an Irish mother (from the Jameson whiskey family); he grew up in Italy and was fluent in Italian and English, but it was in England that his invention first caught on. Marconi was in his early twenties at the time (he died in 1937). With the 'new telegraphy' came the real prospect of replacing the network of telegraphic cables that criss-crossed land and sea at colossal expense. Initially it was the great ships that benefited from the new invention – including the Titanic, whose survivors owed their lives to the wireless.
ISBN-13: 9780007130061
Publisher: Harper Collins UK
Publication date: 03/15/2004 (revised edition)
Pages: 336
Dimensions: 5.00(w) x 7.90(h) x 1.10(d)

Let's All Get Together!
For quite some time, we have considered establishing standard simplex frequencies for use within the CAUHF Group (and for anyone else who wishes to play along with us). All of these frequencies fall within the ARRL Band Plan for VHF and UHF. Here's what we've come up with thus far. We will not use PL tones on any simplex frequency (unless it becomes necessary in the future). During special events, disaster drills, etc., we can refer to these as "tactical channels". Please program all of these simplex frequencies into your mobile radios and HT's. You never know when you might need them.
| | | | |
| --- | --- | --- | --- |
| VTAC Channel | VHF | UTAC Channel | UHF |
| VTAC-1 National Simplex | 146.520 MHz | UTAC-1 National Simplex | 446.000 MHz |
| VTAC-2 | 146.535 MHz | UTAC-2 | 446.025 MHz |
| VTAC-3 | 146.550 MHz | UTAC-3 | 446.050 MHz |
| VTAC-4 | 146.565 MHz | UTAC-4 | 446.075 MHz |
| VTAC-5 | 146.580 MHz | UTAC-5 | 446.100 MHz |
Some folks just pick any old frequency for simplex but that really is not wise. If you are not careful, you can accidentally pick a repeater frequency. Also, you must remember that VHF simplex frequencies need to be at least 15kHz apart and UHF simplex frequencies need to be at least 25kHz apart (as shown above) to avoid interfering with each other. We began with the VHF National Calling Frequency as the baseline at 146.520, then for each succeeding "channel", we went up 15kHz. We also began with the UHF National Calling Frequency as the baseline at 446.000, then for each succeeding "channel", we went up 25kHz.
This is the place to come for the latest news and information about the CAUHF Group. Also, don't forget to check-in to our regular Tuesday Night Net, held every Tuesday evening at 8:00 p.m. on all of the AR Links System Repeaters such as 443.200 in Little Rock, 444.700 in North Little Rock and a dozen or so more around the state. Click on the AR Links System tab above.